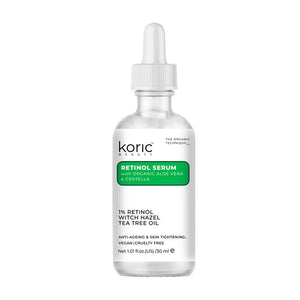 Koric Beauty Retinol Serum with Organic Aloe Vera and Centella (30ml)
Retinol helps in preventing wrinkles by smoothing out existing fine lines. It brightens up dull skin by exfoliating at a cellular level which results in brighter and smoother new skin cells. It helps in regulating oily skin and minimizes breakouts. Vitamin A improves the appearance of fine lines, wrinkles and skin tone. It also helps in reducing hyperpigmentation, age spots and supports skin's collagen and elastin production.
Features:
Helps brighten up dull skin by exfoliating at a cellular level
Enriched with the goodness of retinol,with Aloe Vera andCentella
Fades dark age spots, sun spots and hyperpigmentation
This retinol serum is vegan and cruelty-free
Free from parabens, SLS/SLES, mineral oils, silica and artificial fragrances
How to Use:
Massage a few drops into the skin in the evening as the last step to your skincare routine.
About the Brand: Koric is a beauty & skincare company that provides a range of highly effective skincare products rooted in natural, pure and organic elements with active ingredients. Their goal is to offer holistic products based on your skin types and concerns. Koric, a revolution in brewing, is the marriage of ancient eastern rituals and modern science. It's a result of 12000 years of health-restoring practices of Indian, Chinese, Shamans and Aztec cultures coming together with the wonders of modern science. To bring to you the best of both worlds, Koric introduces The Organic Technique collection. It is an amalgamation of organic ingredients derived from rare flowers and other botanical sources and advanced, clinically proven active ingredients, to give you products that are effective, therapeutic, non-irritating and nourishing. Their formulations focus on healthy PH levels and small molecular structures that the skin can effortlessly absorb. All their products are safe, organic, vegan and effective!
---
We Also Recommend
---