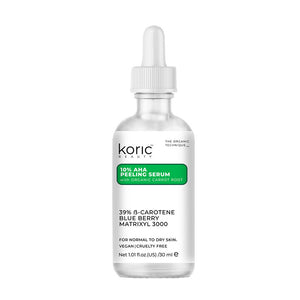 Koric Beauty 10% AHA Peeling Serum with Organic Carrot Root (30ml)
Koric Beauty AHA Peeling Serum is a skin treatment that helps to exfoliate the top surface of the skin. Alpha Hydroxy Acid (AHA) represents acids derived from natural substances like sugar cane, sugar maple and European blueberry. AHA works by breaking down the glue holding skin cells together. Matrixyl 3000 in this peeling serum stimulates collagen production, which results in anti-ageing effects.
Features:
AHA peeling serum that exfoliates the top surface of the skin to reveal fresh new skin cells

Enriched with the goodness of B-carotene, blueberry and lactic acid

Promotes collagen and blood flow while brightening up the complexion

Helps correct discoloration from scars and age spots

Improves the appearance of surface lines and wrinkles
Directions:

Apply upto twice a week after cleansing and toning.
Dispense 2-3 drops and apply to face and neck, avoiding the lower lash line and eyelids.
Rinse off with cold water after 10 minutes.
Koric recommends using this in conjunction with their Radiance Day Cream SPF35.

About the Brand: Koric is a beauty & skincare company that provides a range of highly effective skincare products rooted in natural, pure and organic elements with active ingredients. Their goal is to offer holistic products based on your skin types and concerns. Koric, a revolution in brewing, is the marriage of ancient eastern rituals and modern science. It's a result of 12000 years of health-restoring practices of Indian, Chinese, Shamans and Aztec cultures coming together with the wonders of modern science. To bring to you the best of both worlds, Koric introduces The Organic Technique collection. It is an amalgamation of organic ingredients derived from rare flowers and other botanical sources and advanced, clinically proven active ingredients, to give you products that are effective, therapeutic, non-irritating and nourishing. Their formulations focus on healthy PH levels and small molecular structures that the skin can effortlessly absorb. All their products are safe, organic, vegan and effective!
---
We Also Recommend
---